If you have been wanting to add simple, yet functional, beauty to your home – then look no further than at one of the many different types of pergola awnings that Milanese Remodeling installs. Pergola awnings can not only be a gorgeous feature, but pergolas offer protection throughout the seasons. For more information, check out our guide for choosing the best awning for your home.
What is a Pergola Awning?
A pergola awning combines a traditional garden structure & retractable awnings.
The Pergola
The pergola is a traditional garden structure. It's made with columns, beams & rafters.
Vines can grow on the pergola for shade, but this can be messy. This attracts birds' nests & droppings. Falling leaves and bees are also known to be a problem with a traditional pergola.
Learn more about traditional pergolas.
The Retractable Awning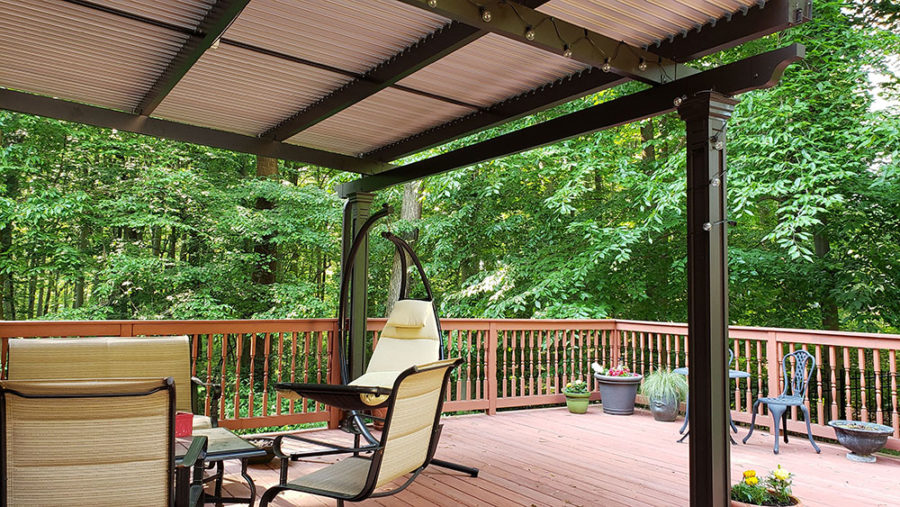 Retractable awnings are the best way to get on-demand shade in order to enjoy the outdoors at home.
They keep us cool on our deck or patio during warm weather. But retractable awnings, like SunSetters, break in high wind or heavy rain.
Learn more about retractable awnings.
The Pergola Retractable Awning
The updated pergola retractable awning gives an updated European take on a traditional pergola.
It works well with every architectural style of home. Fabric can also add color and style to the outdoor living space.
Learn more about retractable pergola awnings.
The Pergola with Louvered Blades
We now offer louvered blades for your traditional pergola. Louvered blades rotate on demand for protection from rain and snow. With a louvered pergola, you can have partial shade or full sun protection. This is great for families that can't decide if they want to retract the awning or not.
The Benefits of Adding a Pergola
No matter which option you choose for your home, there are many benefits to adding a pergola. This includes protection from the elements and a beautiful, relaxing place to kick back and enjoy your outdoor space. Pergolas help protect from:
SUN
Protects even the largest patio or deck from the sun.
WIND
Pergola Awnings are designed to handle winds up to 125 mph!
Withstands higher winds than an old-fashioned stationary or retractable awning.
RAIN
Pergola awnings can handle rain!
Can include an integrated water management system.
The beam is a gutter and the columns are downspouts.
Learn more about pergolas with motorized louvers.
VIDEO: "What is the best retractable awning for sun, wind & rain?"  
VIDEO: "Best Retractable Awning for Sun Wind & Rain"
Video Playlist: Pergola Awnings:
Ready to Get Started with a Pergola Project?
If you are considering a pergola awning, contact us today! We can help walk you through all of your options and find the right design for you. We also offer financing through our partner Synchrony for projects from $1,000 to $100,000.