Create Your Dream Backyard
Milanese Remodeling offers a number of ways for you to enhance your outdoor living. You have endless options to upgrade your backyard space and can even enjoy your kitchen and living room outside. When designing a new oasis with Milanese Remodeling, we'll help you understand all of the features you can integrate into your space. You may think your dream project is not within the budget, but through Synchrony, we offer convenient financing, with funding options up to $100,000.
Eat
Outdoor Pizza Ovens & Kitchens: Kitchen features allow outdoor chefs to create and serve food outdoors without having to run back and forth from the kitchen. Choose your outdoor kitchen appliances carefully and your backyard will be the most popular restaurant in town! Outdoor kitchens may include granite countertops, a propane grill, a sink, and cabinets. Read more.

Drink
Outdoor Bars: The backyard bar gives grown-ups their own space to relax outdoors. Elegant and long-lasting granite countertops, stainless steel sinks, and refrigerators create your very own professional-style bar, right in your own backyard! Customize your bar's height and shape, and choose your cafe tables and seating that suit your taste. Install a wet bar with a sink or dry bar without one. Read more.

Be Merry
Outdoor TVs & Music: Adding an outdoor television to your backyard oasis makes it easy to keep guests entertained. Turn on the big game, watch that hilarious YouTube clip, or catch up on your favorite Netflix show, day or night! With a retractable projection screen, you can turn your backyard into a movie theater. You can even install an outdoor surround sound speaker system to stream music. Read more.

Additional Features
Water
Adding water features to an outdoor space creates a cool atmosphere that can have a calming effect or create excitement! Water features include waterfalls, fountains, ponds, hot tubs, and swimming pools.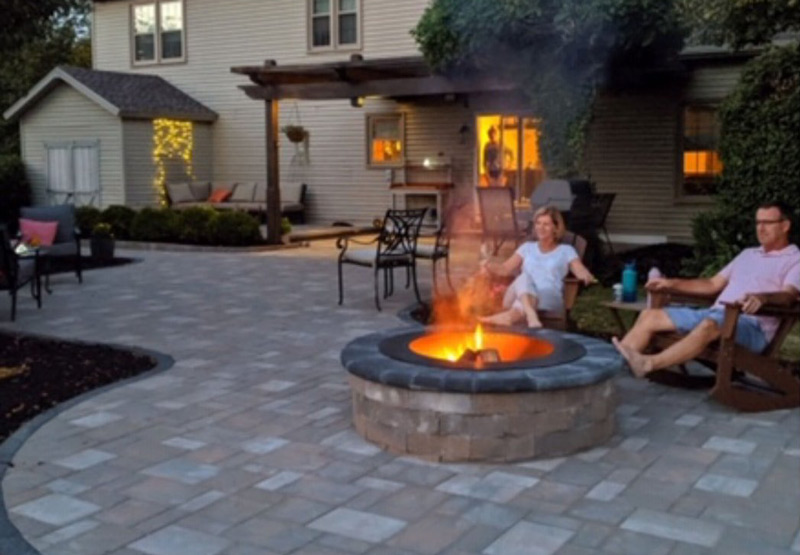 Fire
Fire features extend the day and season with light & heat for warmth, cooking & ambiance. Choose between propane or wood fire elements, including fire pits, fireplaces, flaming bar tops, and flaming table tops.
Temperature
Control the temperature of your outdoor haven by using infrared heaters when it cools off and misting fans on hot days. Enjoy the outdoors rain or shine, whether it's squelching hot or bitter cold.
Lighting
Light up the night with ambient lighting. Opt for electric or solar-powered options. Lights with timers make it easy to control when your lights turn on and off, while motion sensors turn on automatically when you need them.