Home renovations before selling your home may seem like a waste of time and money. This can be true if your windows are in good shape. But a recent survey conducted by the National Association of Home Builders showed that energy-efficient windows are ranked desirable by 89% of home buyers. Windows also hold their value when a homeowner decides to sell. On average, replacement windows retain 74.3% of their value for resale in the US. So if your windows need a spruce up, replacing them might be a good place to invest in.
Reasons To Replace Windows
Older windows might deter buyers away from your home if they're looking for a move-in ready or an energy-efficient home. But, this isn't the only time you should consider replacing your windows. You should consider replacing your windows if:
Your windows are Inoperable. This includes windows with broken glass, latches, locks, and springs.
Your windows are older and don't block UV rays are harmful to your skin. These types of windows create more heat in your home. This makes your heating and cooling system work harder to keep your home at a comfortable temperature. It's estimated you can save around 15% per month on your electric bill.
You have drafty windows. Older windows are less efficient due to their design and let more of a draft in. But after some time all windows can start letting a draft through.
The Cost of New Windows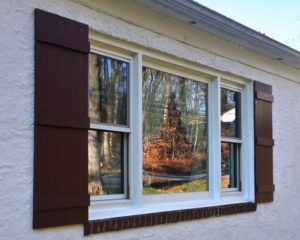 There is no way to accurately price windows over the internet, but you can come close using tools like the Remodeling Magazine Cost vs Value report. When doing this, it's important to understand that prices may vary. Prices may differ because labor expenses may vary from house to house, based on the existing conditions. Also, prices can differ depending on the style window the homeowners choose. For more information about pricing new windows, check out our blog "How Much Do New Windows Cost".
When In Doubt, Reach Out
If you're thinking you might need your windows replaced, contact us through our online contact form! We will be able to evaluate your current windows and provide you with an estimate.